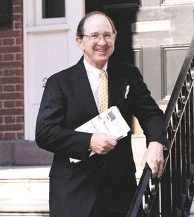 Morris Multimedia, Inc, parent company of Morris Newspaper Corporation and Morris Television Network, is one of the largest, privately held media companies in the U.S.
Founded by Charles H. Morris in Savannah, Georgia in 1970, the company today owns and operates about 70 publications including four dailies as well as eleven network-affiliate television stations and other media-related ventures in ten states and the Caribbean.
Charles was born with ink in his veins. His father, William S. Morris, Jr., was the owner and publisher of four large Georgia dailies: The Augusta Chronicle, The Augusta Herald, The Savannah Morning News and the Savannah Evening Press. His mother, Florence Hill Morris, was garden editor and columnist for the family newspapers.
Charles began his newspaper career as a carrier boy for the Augusta Chronicle. After graduating from the University of Georgia, he worked at the Daily Oklahoman in Oklahoma City and the St. Petersburg (FL) Times. He worked in nearly every department of these newspapers, gaining an insight about owning and operating newspapers that would prove invaluable in years to come.
He later joined the Savannah Morning News as a reporter and was named publisher in 1966. Four years later he resigned the position to devote his full attention to the management and expansion of his own company.
Headquartered in the historic Oliver Sturges House in Savannah Georgia, Morris Multimedia, Inc. continues to grow and build on its reputation as a leader in community journalism.
Morris Multimedia, Inc.
27 Abercorn Street
Savannah Georgia 31401
Phone: 912.233.1281
Fax: 912.232.4639
Click HERE to contact Charles Morris.

Jeff Samuels is the Vice President and Chief Financial Officer of Morris Multimedia, Inc. He has been with the Company as VP since 2000 and was named Chief Financial Officer in January 2001.
Jeff began his career as a CPA with the public accounting firm Deloitte Haskins & Sells from 1984 through 1987. He was Corporate Accounting Manager of The Jepson Corporation (a diversified manufacturing and retail company) from 1987-1989, and Controller of Burns Aerospace Corporation (a commercial airline seat manufacturer) from 1989 through 1993. Immediately prior to joining Morris Multimedia Inc, Jeff was the Director of Finance for Kuhlman Corporation, an $800 million NYSE growth-oriented manufacturing company with operations in five countries. His Kuhlman tenure began in 1993 and ended when Kuhlman was sold in 1999. Jeff is a graduate of the University of Illinois at Urbana-Champaign with a BS in Accountancy. Under the "little did he know at the time"; category, Jeff's university experience included being publisher of two business periodicals.
Click HERE to contact Jeff.
Bobby Berry is the Chief Operating Officer of Morris Network (Television), a division of Morris Multimedia Inc.
After graduating from Mississippi State University in 1985 with an emphasis in Communication, Bobby began his broadcasting career with WKOR Radio in Starkville, MS as an Account Executive. Two years later, he joined the sales department of WCBI-TV as a new business development account executive. Over the next two decades, Berry served as Local Sales Manager, General Sales Manager then in January of 2006 as General Manager.
Bobby accepted his new role as Chief Operating Officer in October of 2014. His responsibilities are oversight of all Morris television stations. Bobby and his wife live in Georgia and Mississippi and are involved with numerous community service projects and both love the outdoors. Click
Click HERE to contact Bobby (bberry@morrisnetwork.com).

Joe McGlamery is regional vice president of Morris Newspaper Corporation with responsibilities for supervising Morris newspaper and shopper operations in six Georgia cities. He also serves as president of the Statesboro Herald.
Joe received a degree in Journalism from the University of Georgia in 1965. He joined Morris Newspaper Corporation in 1975 following a career in broadcast sales and publishing his own advertising shopper. He is past president of the Georgia Press Association, past chairman of the United Way of Southeast Georgia, chairman emeritus of the Georgia Southern University Foundation, past vice chairman of the Ogeechee Technical College Foundation and was the founding chairman of the Bulloch County Foundation for Public Education. He is current president of the Bulloch County Historical Society. He is a former member of the Georgia State Board of Education and is past chairman of the administrative board of Statesboro First United Methodist Church.
Click HERE to contact Joe.

Kathy Kurazawa is the Assistant to Charles H. Morris, the CEO of Morris Multimedia Inc., acting as the liaison between Charles H. Morris and operations managers. Kathy brings a world of expertise in Executive Administration.
Click HERE to contact Kathy.

Jim Goodlett is the President of Morris Technology, a sister company to Morris Multimedia Inc, and a high tech company servicing the media space with SaaS solutions, Engineering and Support Services verticals, along with technology acquisition/management primarily in the eCommerce space. Jim was a founding partner and the CTO of the Company in 2004 and was named President in December of 2006.
Prior to the formation of Morris Technology, Jim held positions as the Director of Emerging Technologies at VeriSign, the Chief Information Architect for H.O.Systems, the VP of Online Learning at Savannah College of Art and Design. Mr. Goodlett's business experience extends to numerous community organizations, including positions of Vice Chair for GSU's College of IT Board of Advisors, Vice Chair of Savannah Science Seminar's Board of Directors, past co-President of Coastal BETA and founding President of INFRAgard Coastal Empire chapter, as well as advises the Technology Committee for Savannah Country Day School's project centric online learning strategy. Jim is a graduate of Texas Tech University with an undergraduate degree in Architecture, and a Master Degree in Architecture with an emphasis in electronic design office management.